I had to call the landlord today about a possible water leak at the apartment. This simple act threw me into a long, dreary and painful panic attack. It is the absolute worst to be sitting on the bus, going to work, trying to count your breaths and not keel over like you're having a heart attack. (I can't say I'm proud of the fact that I have a lot of experience looking calm, cool, and collected while falling apart, but there you go…)
I have a pretty great landlord, and I like where I live. Yet, the thought of calling him set me on edge to the point where I fell off that edge and back into PTSD, which after all is home away from home.
Because "home" died 20 years ago.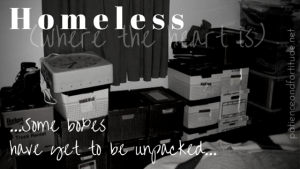 After all this time, I think I should be "over it," in the sense of not feeling like I've been gutted and left abandoned, alone, and helpless by the deaths of my parents. But I'm not. I still feel like I did that day in the summer of 1996 – a day I did not mark or make note of, a day I don't really remember enough about to set an accurate date to – when I walked out of my parents' house for the very last time, carrying my mother's "Poppy Field" painting which was her pride and joy. I had left it for last on purpose. That painting always represented "home" because when it went up on the wall, I knew we were staying. I knew it had to be the last item I brought out of the house to bring with me.
The electricity had been off for a while. Mold was setting into the carpets and the pool was green. I had only moved into my new apartment the week before, though, so I had lived there for a couple of months as it sank into disrepair and destitution. I was still living there when the bank put "no trespassing" signs on the door. I had no job, almost no work history, and just a few thousand dollars in the bank from my father's $10,000 life insurance policy (part of which paid off the balance on my car). If I hadn't had that much, I would not have been able to rent an apartment. As it was, the fraction of my belongings (my inheritance) that I could save were put into storage, where they would stay for a decade. Some boxes have yet to be unpacked.
Most everything else – mother's music albums, father's tool chests, random pieces of furniture and kitchen goods, junk I could not even name and about 80% of our collective books – had been sold in a "fire sale" yard sale. As I walked out with the painting bulky in my arms (it is large), I left behind one of their large "IBM" desks and a cheap bookshelf. Half the books left (the really awful ones that no one wanted to buy, less than 50 total), were tossed about on the floor by scavengers who had stripped what they could of value that I had not moved to the apartment, including a lot of Mother's old clothes that did not sell. The painting had been locked away, hidden, so at least I had that.
When I left that day, getting into my already-old car and heading to my too-expensive apartment to start living a life I knew I was not prepared for, it felt like I was homeless. I was unmoored and I think I was in shock, honestly. The PTSD and the panic attacks had started years earlier, and this was just a denouement of listless proportions.  I remember the drive away. I don't remember how it ended or bringing the painting into the apartment.
I never hung that painting up in that apartment. I was only there a year, anyway.
Every place I've lived since then has never been home. I've been in my current place six, maybe seven years now? It's not home. I'm not convinced any place ever will be, again. I still live with the panicked terror of waking up tomorrow with no place to go, no place to live, no place to belong.
I fight it. I try to make my life my home. It's hard when your heart is so damn empty.