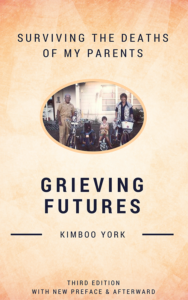 Grieving Futures: Surviving the Deaths of My Parents (Third Edition) is a book that has a lot to do with this blog, if only because it explains a lot about how I got where I was in my late thirties.
I was 24 when my mother died, and 26 when my father passed away. Because of that catastrophe, I lost the family home and any stability I ever counted on. It was, in the parlance, a clusterfuck.
In the aftermath I made some bad decisions, but mostly I did not make any decisions at all and fifteen years later I was falling down into a dark valley of emotional and psychological breakdowns. I think I hit bottom, but all I know for sure is that I hit hard.
This blog is about how I pulled out and what I'm doing now, but Grieving Futures is about how I got there.
The latest edition includes a new preface and an afterward, discussing what has happened in my life since the book first came out in 2010, and my thoughts on the evolving nature of the grief process.
Available now:
…and also many other international booksellers!
 MY GRATITUDE AND APPRECIATION goes to my sharp-eyed editor, JOAN PELOSI, who took my original manuscript and improved it greatly. Thank you, my friend!